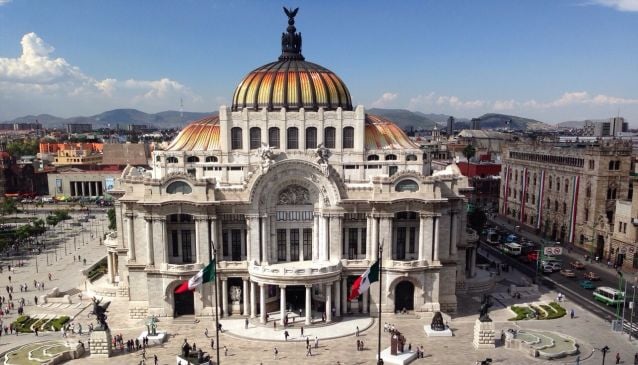 10 Reasons Why You MUST Visit Mexico City
Arts & Culture
"A beautiful, vibrant, and wild mosaic of communities..."
If you want to take some vacations and travel to a special place where you can find everything, including good/warm weather, amazing food, kind people, colorful landscapes, endless options of culture and art, history and lots of fun, Mexico City should be a MUST in your plans. It's not only us who say that. My Guide Mexico City conducted a survey among several visitors of this magical city in order to find out their impressions about it, and here are some of their answers:
1. "As a small-town girl, I presumed that Mexico City would swallow me whole with all of its traffic, noise, crowded streets and endless development. What I found, however, were pockets of the city that felt unexpectedly intimate: neighbourhoods where everyone knew each other, helped each other, and took care of each other. Over the course of the six months we lived on Rio Nazas, we got to know many of the owners or local shops and restaurants where we ran our daily and weekly errands, we built a little family with the other travelers and our hosts, we exclaimed 'home sweet home!'… Mexico City, much to my surprise, is a beautiful, vibrant, and wild mosaic of communities." (Ginette Gautreau, Canada).
2. "This is obvious to anyone who has gone, but the city is truly massive! It can be a bit daunting, but there are few cities in the world that you can return to over and over again and see completely new things every time. The food is truly amazing. Every time I go I look forward to eating new types of dishes, as well as revisit some favorites. I will never forget the cemitas, the pozole, and of course the tacos. Museums! There are dozens of museums, and Sunday you can visit any of them for free. Mexico has an incredible history, and you can really experience it by going to the various museums. I wish more cities would do this" (Valjean Clark, USA).
3. "Even when it sounds strange, the thing I liked the most was its colors… its handcrafts, houses, people, everything comes in vivid colors that transmit joy, in my opinion" (Patricia Quiñones, Perú).
4. "I loved Coyoacán. It is a wonderful place full of colors, tradition, culture… Its houses with huge walls, its enormous gates, the street-food stalls, its market which is easily the most colorful in the world… And, in general, that traditional and mystic ambience that filled me up with energy" (Juliana Villarreal, Colombia).
5. "The historic center: It is a pleasure to enjoy a well-preserved historic center. That's the impression that I had when I first stepped the Zócalo, visited the Cathedral and the National Palace. I was amazed by its streets, by its immensity and greatness, and its living history in front of me. And one thing that I strongly remember was Diego Rivera's murals at the National Palace, the extraordinary strength to express in iconography the history and destiny of Mexico left me breathless…" (Ronny Álvarez, Perú).
6. "National Museum of Anthropology: A great museum for anyone wanting to learn more about Mexico's rich history, including the many ancient civilisations the country has seen, most famously the Mayans. In addition to a great permanent exhibition, the building itself is pretty cool. I found the visit there super interesting and learned a lot" (Petter Malvik, Norway).
7. "Back home, religious occasions often feel like an obligation. In Mexico, they're a party! My favourite that I had the opportunity to attend was the posada, which reproduces the walk of Mary and Joseph through the desert before they got to Bethlehem. Why would this be fun? Well, think lots of singing back and forth between two groups of people, delicious food and drinks, chasing away sins by trying to hit a piñata (whose seven spikes represent each of the original sins) blindfolded and top it off with dancing. Also did I mention that these happen daily the night days before Christmas?" (Katherine Giroux, Canada).
8. "Far from a party animal, my nights at Mexico City tended to end just before sunrise. The party scene in the City is simply amazing, on par with entertainment offered in such locations as London or NYC, including everything from modern dance and art exhibitions, to dance parties. And the prices are competitive too, which means you can afford going out every night of your stay. I made friends with a lot of locals and was very impressed by their kindness and willingness to help a stranger. I am truly looking forward to my next visit to DF and discovering yet another side of this city" (Anna Ebers, Estonia)
9. "Margaritas XXL size!!!!" (Madara Silina, Latvia).
10. "Mexico City means friendship and each day I was there I met new people, all whom contrary to Denmark, was open and curious. The city is also about passion. Passion for love; passion for food; passion for life. Here you need to be passionate about what you do, and you are not allowed to be indifferent. You cannot be indifferent. The city will not allow you to. The city forces you to care, about your friends, lover, life and everything in between" (Anders Klitmoller, Denmark).
These are just some of the impressions that these travellers shared with My Guide. All in all, Mexico City has overpassed their expectations, and they all wish to come back. Don't miss the opportunity to come and discover it yourself!