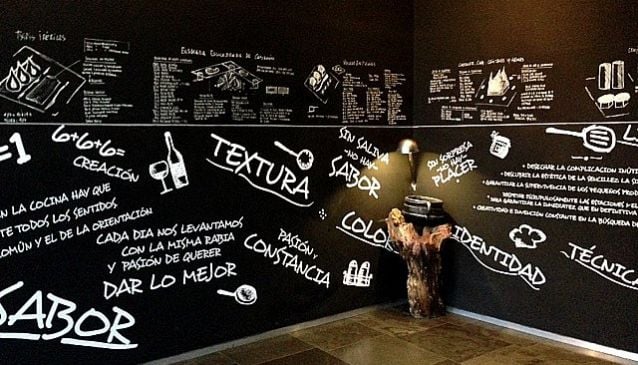 Mexico City at the Gastronomical Summit
Arts & Culture
This city is finally getting the international recognition it deserves
This year, S. Pellegrino's list of the World's 50 Best Restaurants included, for the first time, three Mexican places: Pujol, Quintonil and Biko, all of them situated in Mexico City. Though long known among locals as a gastronomical centre, this city is finally getting the international recognition it deserves.
Of the three restaurants, Biko stands out, as it is not strictly Mexican but rather an extraordinarily-accomplished eclectic place. It sits in the heart of the most glamorous district of the city, at Polanco's Masaryk Street. The worldwide renowned and multinational chef, Mikel Alonso, is in charge. And its cuisine is described as "Gachupa", which, in Chef Alonso's words, means "an honest cuisine with a mestizo identity (which is the most important aspect) that gets transformed every year".
In order to understand the essence of Biko, its chef and Mexico City's gastronomic scene, My Guide Mexico City interviewed Chef Mikel Alonso, who shared with us his impressions with the brilliance, modesty and honesty that characterize him.
Born in France, he grew up in the Basque Country where he started studying chemical engineering. Two years into his program he dropped it to pursue his true passion: gastronomy. He studied in San Sebastian with the highly prestigious Chef Luis Irizar, who advised him to come to D.F. to work and learn from the local cuisine. Initially, Mikel declined Irizar's offer as he was happy in San Sebastian, but after five minutes, his mentor succeeded in convincing him. Mikel decided to try his luck and take a flight to Mexico City, his first international flight.
Nowadays, Mikel Alonso is internationally famous. His restaurants have been in the top 100 of S. Pellegrino for seven years: once with Tezka (the first Mexican restaurant that made the list in 2004) and six with Biko. "Today, after 17 years, I can only say 'How right Luis was!'… When you come to Mexico, you realize the complexity of life and the beauty behind that complexity. That's why I didn't go back to Spain; as time passed by, I noticed that in order to know Mexico, you need more than one life".
What Mikel enjoys most of this city is its complexity and its contrasts. "It is an extremely contrasting city that has it all, but it is empty in the end. It is a thrilling city where you get use to having everything at any moment; it provides, but at the same time it takes away your time, your feelings and life option, because of its traffic, chaos and stress… It is a city full of adrenaline, hence, it is a city that has much history and euphoria".
Speaking specifically about gastronomy, Mikel lists three aspects that made him fall in love with Mexican cuisine:
1) The people, "as it comes from passionate, kind-hearted and generous people". He asserts that good food can only come from generous people and Mexico is full of generosity.
2) The geography "which drove me crazy… People usually talk of Mexico's surface and above, but few times they mention the extreme richness of its soil and below. Its ground has it all, the energy and the fountain of life that allows this country to stay alive from its surface.
3) The techniques, "Mexico is a sponge of techniques. Not only it preserves its pre-Hispanic techniques, but it also has Chinese, Japanese, French, Spanish, Arabic and Lebanese ones. And it has absorbed all of them to the point that it has become a nursing mother: it feeds the rest of the cuisines! At the international level, it is a mother gastronomy. There are a few cuisines that are like this: French, Chinese, Mexican and Indian".
Regarding the changes in the gastronomic scene of the city, Mikel shares that when he first arrived here, Mexican gastronomy was very glamorous as it was the moment of the bistros, of the restaurants with menus with no prices exclusively for women, where you could develop an amazing cuisine in Zona Rosa, while Condesa was just starting and the south had hallucinating places in Coyoacan and San Angel.
Today everything remains the same, "everything is still glamorous, with a different identity but the same essence". However, he recognizes that nowadays there is a nationalistic move in gastronomy and a strong attempt to export the true Mexican cuisine to other countries. In addition, he says that we cannot forget that Michelin stars are keeping an eye on this city, "maybe in five or ten years they manage to get in here and they'll set different standards to establish a restaurant".
With all this multicultural background, it's not surprising that Biko is constantly changing and renewing itself, where the mix of flavors and cultures converge in a perfect and harmonious manner. Mikel confesses that the identity of Biko is built by everyone who works there (more than 50 employees). "There are so many aspects that have influenced our identity: genetics, the origins, our own development, places we have visited…"
Mikel says that he wants to try giving this country back what it has given to him. "The only way I can make this possible is with much seriousness, a constant preparation, ensuring our pupils are taking everything they can from this restaurant and sharing all our knowledge with them".
Finally, Mikel has a unique way to invite people from everywhere to come to Mexico and enjoy its cuisine: "Every person reading this must take some time to also read about Mexican gastronomy from different angles. In order to understand Mexican gastronomy, you must understand also a bit of Mexican politics and everything that has happened in this country. Mexican cuisine is one of the best in the world and it has always provided to the rest of the cuisines without expecting anything back… If someone speaks badly about Mexican gastronomy, it's just false. Mexican gastronomy is millennial, it's pure, it's mother".