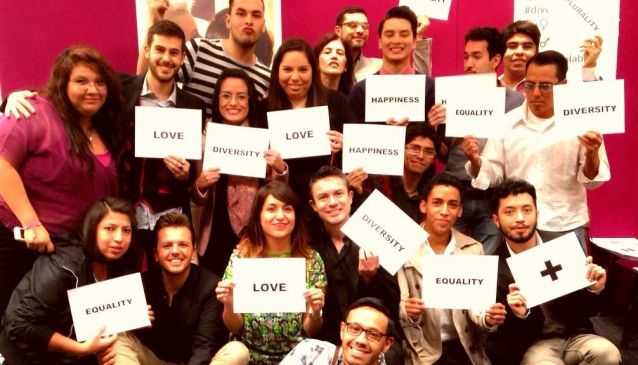 Mexico City: Diversity + Love
Editorial
Last year, during October 27-31, Mexico City hosted ILGA's 27th World Conference (ILGA is the International Lesbian, Gay, Bisexual, Trans and Intersex Association), a set of gatherings where around 450 representatives of civil society organizations from around the world discussed, among other topics, strategies to strengthen the LGBTTTIQ movement. This was the first time that this city embraced such an important event celebrating diversity in the world. In this context, My Guide Mexico City interviewed Jaime Kohen, Lulú Gil, Osvaldo Landaverde and Francisco Andrade (Paco), in order to hear their experience living in Mexico City as members of the LGBT community and learn more about diversity in this city. These are their testimonies.
Jaime Kohen is a young Mexican pop star. He started his career in 2010 and became nationally famous in a short time. In the beginning of 2014, he decided to take a major personal step: he assumed his sexual orientation in a press conference. In his words:
"I did this firstly because I realized that in many parts of the world there are awful things happening against the gay community, like the repression in Russia and the anti-gay laws adopted in India. And even when in Mexico there has been much progress, it is still second in the world with crimes for homophobia. I couldn't believe that there still exists so much discrimination and abuse... Secondly, there is a Jewish association of LGBT people in Mexico called Guimel, which invited me to join it. I met there a lot of young people who are discovering and starting to experience their sexuality. I noticed that not long ago I was in their situation; it touched my heart and I decided to contribute by spreading the message that even when it is a difficult process, at the end everything is going to be fine. That is why I talked openly about my sexuality in the Mexican Museum of Memory and Tolerance, which is a significant place for me as I am Jew and gay, two minorities historically persecuted".
Jaime has not experienced any difference in his career after assuming his sexuality, as he has maintained his private life away from the cameras. He has been in a committed relationship for years in a free, open and beautiful way in Mexico City. "I walk happily on the streets with my partner... In Mexico City, this topic is every time more open and respected and you can see more couples holding hands in all zones: Downtown, Condesa, Roma, etc."
He thinks that other artists decide not to share their sexual orientation as we still live under a macho culture and its many stereotypes in Mexico. However, he contributes to the LGBT cause through his music, which celebrates all sorts of diversity, and by participating in important events such as the International Day Against Homophobia and Transphobia (IDAHOT), organized by the British Council Mexico. Yet, he doesn't consider himself an activist: "I am just a human being trying to contribute to a change".
Jaime's message to gay people in Mexico City is: "They are very lucky to live here because it is a place where you have legal support to live your sexuality. You can go on the streets knowing that you are going to be protected and your rights will be respected." And for Mexico City's visitors, he added: "They are going to have a blast, this city has amazing places. I love it! They will be able to go around in peace and meet beautiful people, without worrying about anything at all".
Similarly, Lulú Gil, a 28 year old girl from Puebla (a state two hours away from Mexico City), has had a pleasant experience in this city.
Lulú started exploring her sexual identity in her early 20's in a summer camp in Michigan (United States), where she had her first contact with other lesbians. She says that in Puebla, homosexuality was not a common topic discussed by her family or friends, so she didn't think about it as something good or wrong. She talked to her friends about her attraction to other girls and she was fully respected: "my friends were all cool about it". When she had her first serious relationship, she decided to tell it to her parents "and they were fine with it, as well as my sister".
She was in a seven-month relationship and she never experienced discrimination or homophobia in Mexico City. "I have never had a bad experience here… With my former girlfriend, I was a bit scared at the beginning because I felt that everyone was looking at us, but after talking to some people, I realized that it was all in my head." Nevertheless, Lulú thinks that this openness might exist in certain parts of the city. "I live, work and spend my time at Roma, Condesa, Polanco and Downtown, and all these zones are used to seeing gay couples. Maybe in other parts it is less common".
She has not witnessed either a different treatment at her job. Yet, she recognizes: "I have some friends who are public figures and prefer not to say it because they don't want to be stereotyped... I guess they fear that this aspect won't let them grow".
Lulú has been in many parts of the United States and Europe, and in her opinion: "I don't see any major difference between the cities of the First World and Mexico City. Only in certain aspects such as public transportation or social policies the gap is notorious. But when it comes to living the city and as member of the LGBT community, I feel that Mexico City is even more attractive than other parts of the world, especially regarding nightlife and amusement!"
Lulú's message to Mexico City's visitors is: "There is nothing to fear here. In every big city of the world, you have to be precautious and aware of where you go and how you travel. Here is not the exception. But there are unlimited things to do for all tastes: party, relaxation, culture, luxury, everything! The variety, openness and joy that Mexico City offers are unique".
Osvaldo and Paco got married in Mexico City and they also have a great story to share. They met each other in a party in 2011. From the beginning, there was something special between them. After a month of relationship, they moved in together. A month later Osvaldo got a scholarship to study a Master's degree in Spain, which made him fly to that country five months later and stay there for two years. Nonetheless, they visited each other several times and they Skyped every day, which helped the survival of their long-distance relationship.
Osvaldo is from Mexico City. He told his friends he was gay in the last year of high school, but came out to his parents only once he was in a serious relationship with Paco. "With my dad it was a bit difficult because he is from the North of the country, where the macho culture is very strong… But at the wedding he was the happiest person and nowadays he is cool with it… With my mom, it was very easy from the beginning". Hence, it was easy for him telling them that he would marry Paco. "They made jokes and toasts and they were all very happy".
Paco's situation was a bit different. He is from Puebla, but he moved to Mexico City after finishing his undergraduate studies. He came out of the closet with his family when he was 19. Not all of them were open about it from the beginning, for which announcing his marriage was a more uncomfortable experience. He decided to tell them in a new year's eve, in front of family and guests. "I wanted to see their reaction, as I planned to invite everyone". Some people warned him not to do it there as it would "ruin the occasion" and it would turn it all awkward. However, he carried on his plan. "I was so nervous; I don't even remember what I said… I talked about our love and I told them that because of it, we were getting married the year after… Their reaction was great! They applauded, congratulated us and took pictures… But many of them didn't show up at our wedding!"
Paco affirms that the announcement and the fact of getting married "was activism from our part to break the taboos in our families about gay couples and marriage by making things right. We organized a traditional huge wedding, as any other couple, and included everyone… We wanted to give a lesson about how this is normal, and we wanted to support same-sex-marriage by being part of it, by reaffirming this right". He says he is proud of teaching his little cousins that gay couples are as normal as heterosexual ones, and of making things easier if any of them is gay.
As in the case of Jaime and Lulú, Paco and Osvaldo haven't experienced discrimination at their work or with their social circles. In Osvaldo's opinion, homophobia "maybe has to do more with people's education; the most conservative, religious and ignorant people discriminate the most".
Osvaldo thinks that despite the achievements in this city, there is still much to do to further normalizing and socializing gay love. On the other hand, Paco affirms that it is important to not forget the cause and the fight, to create consciousness and memory of what it has been to fight for all the rights gained and to keep fighting to be respected, to preserve those rights.
This is a taste of how members of the LGBT community live in Mexico City. There are still many goals to achieve. Yet, this city is prepared to welcome everyone. Be welcome to this city of diversity and love!