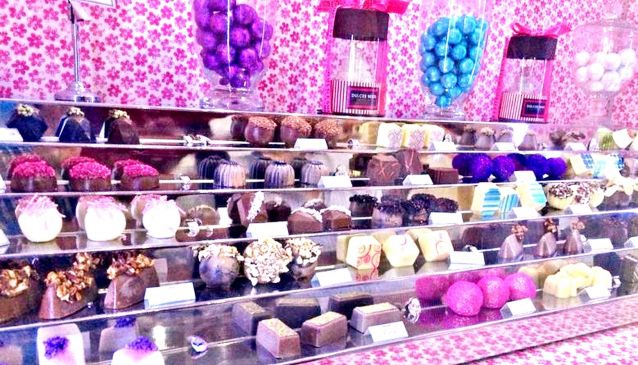 Mexico City: Sweeter than imagined
Arts & Culture
It is well-known that Mexican food is among the most diverse and tastiest gastronomies in the world; to such a point where UNESCO placed it on its list of Intangible Cultural Heritage. But if you think that this tradition consist only of salty and spicy dishes, you certainly have much more to discover from this exceptional cuisine. Nowadays, there is a sweet revolution happening with very important representatives fighting to put Mexican desserts in the world's palates. Among the most important revolutionaries, Paulina Abascal's battle stands as an icon of success and accomplished dreams, and My Guide Mexico City had the opportunity to have a conversation with her.
Born in Mexico City and considered one of the top 10 chefs of Mexico, Paulina Abascal's career is outstanding for the amount of achievements, prizes and awards she has received nationally and internationally. To mention but a few, she was awarded the Gold Medal of the Culinary Academy of France, where she's member since 2004; she won the Prize of Universal Excellence; she has written four books (including a bestseller); and both Vogue Magazine and business magnate Helena Rubinstein recently recognized her as an international prodigious woman. Thus, she says proudly that she is most thankful for her two kids and for her professional career, which has allowed her to bring happiness to the people through her sweet creations.
Paulina's passion for desserts started early in her life. "I've baked since I was 7 years old. What first started as just a girls' game, playing with mud to make cakes, later became my passion. I realized that the most important thing to me was baking and making people happy with my cakes".
When Paulina decided to study gastronomy in order to develop her talents, there were no schools in Mexico offering that option, but she had the opportunity to study in France, Belgium and Spain where she specialized in pastry and chocolate. However, she confesses that 90% of what she has accomplished has been through her hard work, effort, a lot of practice and self-learning. Thus, she describes herself as an empiric chef.
Thanks to this discipline and determination, she is considered nowadays the Ambassador of Mexican pastry around the world. She emphasizes that she uses as many fresh Mexican products in her recipes as she can in order to support small producers with her creations. For example, many of her recipes include vanilla which she buys from the community of Papantla (in the state of Veracruz), which is the world's cradle of vanilla.
Paulina describes her pastry as one with a classic French basis but with typical Mexican flavors. Therefore, her cakes may look like sophisticated French creations "but they will have a unique Mexican taste thanks to the strawberries that I use from the region of Irapuato (in the state of Guanajuato), the passion fruits from Veracruz and all the seasonal fruits we have in this country".
True it is! In her factory and store located in Mexico City, Dulces Besos (Sweet Kisses), you can find the most eclectic yet fascinating and delicious creations: crème-brûlée with mamey fruit; dark chocolates stuffed with mezcal, mango or hibiscus; white chocolates stuffed with guanabana (soursop) or apricot and sweet-and-spicy cereal clusters with cranberries! Whether you like sweets or not, entering this place will surely make you feel like a child again in Willy Wonka's world.
Paulina has conquered the strictest international customers. "I have a lot of clients from all around the world in my store. They love it. They first feel attracted by the look of my products and then appreciate them for their quality and taste… Foreign people get fascinated by the variety of flavors, of colors and products that we have in Mexico and I cherish the opportunity of being a representative of this".
In fact, in 2009, the Vatican invited her to set a table of desserts for Pope Benedict XVI. Regarding this experience, she shares that: "there were people from all around the world, including Ambassadors and other prominent figures, and they were all delighted not only with my creations, but also with the taste of some artisanal Mexican desserts I served, such as glazed fruits, 'ates' (thick sweet paste made from different fruits), brittles, and all the products that have been traditionally present in our gastronomic culture".
Paulina Abascal acknowledges that thanks to her, Mexican pastry has changed and evolved. Her work is a milestone for sweet cuisine in the country. Many chefs are following her steps and create fabulous new recipes with local flavors. The most prominent people and media from the country and abroad have come to her to learn more about this revolution and to taste her magnificent creations. That is how AMC Networks International in Latin America offered her a TV show in Gourmet Channel, which has remained for more than 9 years. This led to her writing the bestseller "Larousse of Desserts with a Mexican Touch of Paulina Abascal", recognized in 2009 as the best book of desserts in the world, with more than 250 recipes that include Mexican ingredients and flavors.
Chef Paulina Abascal has a message to the world regarding Mexican gastronomy: "Don't miss the flavors of our fruits, of our spices, of our traditional sweets and the smell and the flavors of our markets". Thus, if you want to experience an explosion of authentic and delicious senses in your mouth, follow her advice and come to Mexico City to witness this revolution yourself! We guarantee that you will be hard pressed to find something similar anywhere else in the world.
To learn more about Paulina Abascal's career, recipes and products, see her social networks:
Twitter: https://twitter.com/Paulina_Abascal
Facebook: https://www.facebook.com/PaulinaAbascal.DulcesBesos
Instagram: http://instagram.com/paulinabascal
Pinterest: http://www.pinterest.com/paulinaabascal/
Youtube: http://www.youtube.com/user/PaulinaAbascal