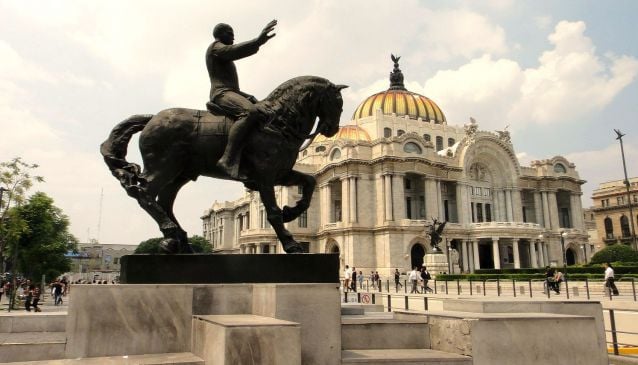 September: The Peak of Mexican Pride
Editorial
My Destination Mexico City conducted a survey among 108 Mexicans. Here, their responses!
Visiting Mexico City in September is a spectacle; you'll find it covered in green, white and red, the three colors of our flag. When it comes to celebrating, Mexicans excel, and on September 16th we commemorate one of the most important national festivities: our independence day! (No, it's not "5 de mayo").
This event is huge. Buildings, streets, cars, buses, people… everything is wearing the flag's colors. All is meticulously decorated for the night of the 15th, when the Mexican president rings a bell at the National Palace in front of thousands of people gathered together at the "Zocalo", Mexico City's main square. He shouts the names of the national heroes and ends repeating three times "Viva Mexico". This rite, commonly known as "El Grito", is a remembrance of Miguel Hidalgo's cry of independence in 1810.
Along with the president, all Mexicans proudly shout out loud their love for their country. But, what exactly are these people proud of? What do they celebrate? To answer these questions, My Guide Mexico City conducted a survey among 108 Mexicans. Here are their responses:
1. Gastronomy: Not surprisingly, local food is what Mexicans feel more proud of. How can it not be? It is a World's Intangible Cultural Heritage! It was the most mentioned element among the respondents (85%). They described it with terms such as "varied", "great", "vast", "nutritious", "influential" and "internationally recognized". Many dishes and products were specifically mentioned: tacos, chiles en nogada (chili peppers stuffed with meat and fruits, topped with a walnut-based cream and pomegranate seeds), pozole (maize and meat soup), enchiladas, mole, salsas, chili, tortillas, beans, avocado, nopal cactus, chocolate and traditional sweets.
2. People: Not far from food, 79% of the respondents said they were proud of Mexican people. The most cherished characteristics were their warmth and kindness: "we are really welcoming and friendly". Other highlighted aspects were happiness and optimism: "our way to see the good side of everything and make jokes about all situations"; solidarity: "the way we unite and help each other every time there is a tragedy, such as natural disasters"; fighting spirit: "we are hard-working and honest people"; patriotism: "Mexicans are really proud of their country"; talent; creativity; festive soul; hospitality; generosity; wit and great sense of humor!
3. Magical places: In third place was the beauty of the country itself. The majority of the respondents stressed the exquisiteness of its beaches: "every time tourists visit a Mexican beach, they say 'Wow, this is a beach!' I love having such pretty beaches that cause envy around the world". Other aspects mentioned were Mexico's landscapes, its Magical Towns, the Colonial cities, the infinite archeological sites, historical buildings and monuments, as well as the "numerous sites designated Human Heritage and/or Biosphere Reserve." Mexico is the country with more properties inscribed on UNESCO's World Cultural or Natural Heritage List (32 to be exact) in the Americas.
4. Biodiversity & climate: Linked to the point above, Mexicans are proud of the country's biodiversity. Mexico occupies 1.4% of the planet's surface, but it is home to 12% of the world's species. Due to its geographical position and complex topography, it has all sorts of climates. In fact, Mexico is one of the five countries with more varieties of ecosystems in the world. Therefore, the respondents said that they were proud of the country's "abundance in natural resources"; "varied ecosystems that include oceans, beaches, deserts, waterfalls, cenotes (natural wells), caverns, woods, high mountains and volcanoes", and its flora and fauna that allows it to have all types of delicious fruits and beautiful species. As one person said: "It is beautiful from North to South, from East to West".
5. Traditions: Mexicans are very proud of their traditions and preserve them with zeal. The most mentioned ones: the Day of the Dead (Tim Burton's source of inspiration); Guelaguetza (an annual indigenous cultural festival in Oaxaca); Posadas (a nine-days celebration before Christmas, representing the procession of Joseph and Mary looking for lodging during her pregnancy); the Indigenous Deer Dance; the Papantla Flyers; the national day celebrations; the founding myths and legends; and the devotion for the Virgin of Guadalupe. "Our festivities always rely on a tradition of love and solidarity, with social aims and a search for reunion and constant celebration".
6. Arts: 50% of the respondents said they were very proud of Mexico's artistic creations. First, they mentioned the big names in literature: Octavio Paz (Nobel Prize), Juan Rulfo, Carlos Monsivais, Sor Juana, Carlos Fuentes and Alfonso Reyes. Secondly, they mentioned music, Mariachi being the most popular style, followed by folk music and worldwide famous bands and artists such as Café Tacvba and Juan Gabriel. Architecture won third place, ranging from pre-Hispanic buildings to Colonial and modern constructions and the fusion of styles, as in the case of Mexico City's Palace of Fine Arts. Finally, painting and folk dance were also mentioned.
7. Culture: Again, linked to the previous points, Mexican culture is an aspect treasured in the heart of our respondents. They prize its diversity, its richness. They stressed its vividness and colors. "It is large and incomparable", someone answered. They appreciate the spaces dedicated to its promotion, such as the countless museums in the country and the huge festivals, like "Cervantino". Many deeply cherish the legacy of the Indigenous cultures. They are proud of the millennial stories and customs, of the fusion of cultures and knowledge (mestizaje) and of the current language, expressions and accents. Pop culture elements were also mentioned: luchas libres (freestyle wrestling) and TV shows and soap operas that are exported worldwide.
8. History: 40% of the respondents stated to be very proud of the country's history. "I love the blend of the pre-Hispanic world with the colonial legacy and the modern times", someone described. "It is exaggerated and written for some purposes, but the mix of truth, legend and science fiction is incredible", said someone else. With its more than 14,000 years of history (the first human settlements established here that long ago), Mexico has had it all: great ancient civilizations, empires, colonization, republic, modernity… This nation has a rich and extremely interesting past to discover!
9. Family: Mexicans are also very proud of their family values. They say that Mexican families are different from the rest of the world in the sense that they are more united, loving and welcoming… "we will always protect and take care of each other".
10. Indigenous peoples: Finally, the 10th more valued aspect is the diversity and magnificence of the Indigenous cultures. In Mexico, there are 62 different Indigenous groups and 364 languages. That is why Mexican people value the multiplicity of ethnic groups, their numerous languages, believes, traditions and their resistance. "They are our roots"; "they have remained beyond times and kept their identities".
In total, more than 60 different elements were mentioned by the respondents. Other popular aspects that didn't make the top 10 list were: national symbols (flag, coat of arms and anthem), Mexican handicrafts, Tequila and Mezcal, the National Autonomous University (UNAM), Mexican folklore, the excellent service in restaurants and hotels, the beauty of the people and the street markets.
Now you have a more accurate picture of what you can see and experience in Mexico and specifically what makes us proud and happy. We invite you to come and discover this vast, rich, beautiful, colorful and delicious country. Above all… Viva Mexico!!!!!
To watch an amazing video by Mexico's Ministry of Tourism (SECTUR), containing all of the elements mentioned here, we recommend you to go to: https://www.youtube.com/watch?v=PUTXIkvzXuM