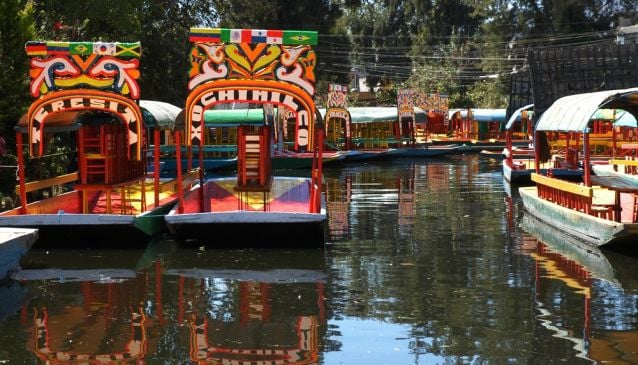 The Canals of Xochimilco
Arts & Culture
Vendors stand on the shore in some places, selling meals, drinks, and ice cream to boats passing by.
A 'must do' of any trip to Mexico City is a visit to the canals of Xochimilco. Xochimilco´s origin goes back 500 years as the agricultural hub of Tenochtitlan and the meaning of Xochimilco in nahuatl is "Field of Flowers". When you visit Xochimilco you will find it a unique and scenic spot. We recommend you visit on the weekend, but be prepared with comfortable clothes and sunblock to navigate your way around in a trajinera - typical Xochimilco boat.
There are always plenty of vendors (in smaller canoes) with food and drink, souvenirs and music. You can even hire a floating mariachi band to get the full experience, and sing along 'cielito lindo' on your way through the canals.
History tells us that Xochimilco became recognised as a tourist attraction around the 1920s, when European guidebooks romanticised the gardens and described Xochimilco as the 'Venice of Mexico'. Also in 1987 Xochimilco was declared a Cultural Heritage Site.
Xochimilco is absolutely a unique experience on the canals, and one you should definitely try out for yourself. Along the canal there are some trajineras which sell sweets, tacos or boiled corn should you get peckish, while 'restaurant boats' selling simple meals of rice, chicken in sauce and tortillas are available should you need more sustenance. Vendors also stand on the shore in some places selling meals, drinks, candy, and ice cream to boats that float by. Generally, there will be a bucket of soft drinks and beer on the boat; you pay at the end of the boat ride for what you consumed.
In downtown Xochimilco, there are several areas of the market with food stands, as well as restaurants outside the market. There are also several pizzerias and taco restaurants nearby. Women prepare the famous comal quesadillas in front of the customers' eyes. To stuff them, you can choose from a variety of stews, cheese, mushrooms with epazote, chicken or beef tinga, and picadillo. Choosing where to sit is easy: the best places are those that are the most popular. On Saturday and Sundays they sell 'pancita' (a stew made from beef stomach seasoned with oregano, chile and onion), the famous pozole that can be red or white and delicious tostadas. A real gourmet experience!
Deep in the Xochimilco canals, there's a small island with a strange and dark history. This island is called 'La Isla de las Muñecas' and the story is that a man called Don Julian Santana left his wife and child and moved onto an island in the Xochimilco canals. According to some, a young girl actually drowned in the lake, while most others, including his relatives, say Don Julian Santana merely imagined it. Regardless, Don Julian Santana devoted his life to honoring this lost soul in a unique and unnerving way: he collected and hung up hundreds of decomposing, decapitated dolls. Eventually, Don Julian transformed the entire island into a kind of bizarre, (for some) horrifying, doll-infested land. In 2001 Don Julian Santana was found drowned in the same area in which he believed the little girl had died.
Xochimilco, besides being famous for its canals and trajinera boats, has one of the most traditional nurseries in the city. You can also visit the Madreselva Market, one of the most traditional markets, which is located in calzada Xochimilco. There are special buildings in the area like the Convent of San Bernardino, a superb 16th century building, characterised by its simplicity and monumentality, with its large atrium, which is a main feature in traditional religious architecture of Mexico. Other chapels in the area are 'el Rosario', 'San Cristobal' and 'Santa María'. In the centre of Xochimilco you can find Morelos Park and the local market.